About Master Metal Products
Master Metal Products is a custom metal fabrication shop based in San Jose, CA that specializes in welding, rolling, forming, cutting and machining a wide variety of materials into pieces used in the transportation, green, defense, aerospace and mining industries utilizing the latest in robotic technology.
MMP believes its continued success depends on a customer's complete satisfaction and the company's leadership dedicates itself to that ideal at every opportunity. Led by President Eric Friederichs and Vice President Cindy Friederichs, the MMP management team includes General Manager Glenn Kerk, Business Development Manager Tim Carr and Production Superintendent Mark Carrick.
The company continues to look for ways to serve its clients by building efficiencies in project management and manufacturing, investing in state of the art CNC and robotics and training MMP technicians to deliver maximum quality under tight deadlines.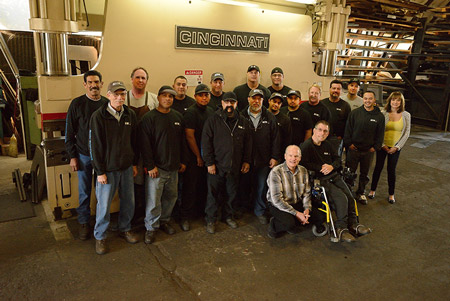 Master Metal Products Team
Meet Eric and Cindy Friederichs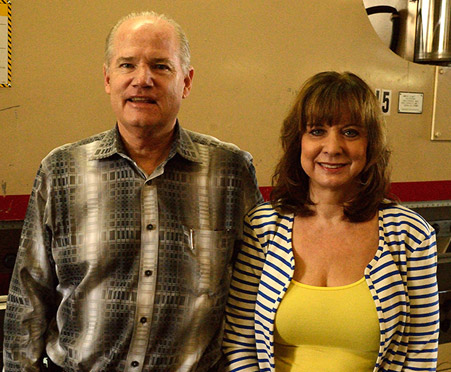 Eric and Cindy Friederichs, Owners
Eric Friederichs joined the Master Metal Products family in 1971.
Over the years, Eric has learned the business inside out. His first jobs at MMP — journeyman painter, machine operator and welder — taught him the importance of high quality workmanship.
As his role evolved and he worked more closely with MMP's longstanding customers, Eric brought the company's longstanding dedication to customer service to life.
In 1995, Eric began handling MMP's day-to-day business operations, including customer relations, shop production and estimating.
Cindy Friederichs has been involved in MMP's business since the mid '80s, helping to run the company's office, business affairs and managing customer relations. She has continued to accept new responsibilities and today splits the daily duties of running the business with Eric.
In 2006, the Friederichs family purchased Master Metal Products.
Master Metal Products Key Personnel
Contact Us
MMP believes that continued success depends on a customer's complete satisfaction.
We look forward to hearing how we can be of service.
Contact Us